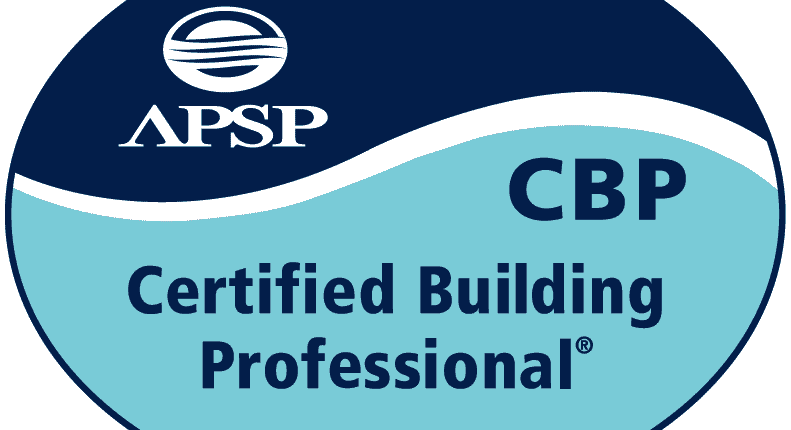 Patrick's Pools is an APSP CBP certificate holder. This is the highest designation in the United States for the pool industry. Roughly 1% of pool builders have the capacity to pass the APSP CBP examinations. There are many reasons to chose an APSP CBP to build your swimming pool project.
Because our local pool industry is a largely unregulated industry, I believe the most important reason to chose an APSP certified CBP is to make sure your project has been built according to a set of standards. APSP CBP builders adhere to (ANSI) American National Standards Institute regulations during the construction of their pools. Local regulations don't call for the actual construction of the structure of the pool to follow any specific regulations. An example of this would be a pool builder showing up and building pool walls from duct tape and cardboard. Now this is an extreme example but it is not illegal according to the set of regulations we have in place in most towns here on Long Island. The homeowners have the sole responsibility to make sure their pool builder is building their pool structure up to a certain quality. Without any real knowledge in the construction of pools this is a nearly impossible task, and this is why it is important to choose a company that is an APSP CBP, because we are building our pools to the ANSI regulations.
To achieve the industry's premier designation, Patricks Pools Inc, an APSP Certified Pool Builder (CBP)  has been thoroughly tested and has committed to upholding the highest standards. These standards ensure you, the consumer, are getting the best pool, spa, patio, and service on the market today.
Experience 
Just to qualify for CBP examinations, applicants must have more than five years of work experience in their field.  Patrick Kenney, founder of Patrick's Pools Inc has been in the industry since 1997.
Expertise
Each APSP Certified Professional has passed a rigorous course and exam and demonstrated a mastery of topics that include pool structure, regulations, permitting, building codes, planning, mechanical drawings, excavation, hydraulics, insurance, filtration systems, solar and other heating technologies, electrical issues and code requirements, decks, finishes, cleaning systems, chemicals, safety and hazardous waste.
Education
APSP Certified Professionals must fulfill continuing education requirements to stay current on the latest technological advances, industry developments, and business trends.
Ethical Practice 
APSP Certified Professionals pledge to uphold APSP's Code of Ethics and comply with the highest business standards and practices, on topics that range from health, safety and public welfare to contracts and product pricing.
Patrick Kenney, Southampton pool building