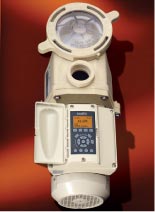 Did you know that a traditional pool pump, like a Hayward Super Pump, uses the exact same amount of electricity as a full sized refrigerator running with its door left wide open 24 hours a day? Very hard to believe, but this is a fact! This costs Long Islanders over $1000 on average per year.
[button link="http://patrickspools.net/wp-content/uploads/2011/04/rebate-pool.pdf"]PSEG Pool Pump $450 Rebate[/button]
Patrick's Pools is a certified high efficiency pool pump installer and dealer for PSEG. We will install your high efficiency pool pump and do all necessary paperwork for you to receive a $450 PSEG rebate check.
The solution is here!
Hybrid pool pumps are possibly the biggest breakthrough in the history of the pool industry. They use the same breakthrough 6-pole motor technology as our hybrid cars that are achieving 50+ mpg. These pumps are 90% efficient compared with regular pool pumps and will save approximately $900 per year in electricity on Long Island using today's PSEG rates.
The advanced motor produces far less heat and vibration than a standard pool pump. It also operates at a much slower speed. This combination of factors gives them an outrageous 20-year life expectancy, meaning they will save an average of $18,000 over their lifetime. They also have the ability to move three times the gallons per minute of water compared to a traditional pool pump, meaning they will keep your pool much cleaner. Certain models even poses a built in SVRS (safety vacuum relief system) meaning the pump will shut down in the event a child was trapped on a main drain. These pumps are also the quietest pumps available.
These pumps are an absolute no-brainer and should be on every pool. Besides saving our environment they will also save you tens of thousands of dollars over their lifetime, and keep your pool cleaner. Patrick's Pools is an expert at installing and programming these unbelievable pool pumps. The sooner you switch to a hybrid pump the sooner you will start saving $900 a year on electricity.
By Patricks Pools Patrick Kenney of Southampton
Sales@patrickspools.com
http://patrickspools.com/wp-content/uploads/2011/04/margin_accent_intelli.jpg
212
155
dodadmin
http://patrickspools.com/wp-content/uploads/2016/02/patricks-pools.png
dodadmin
2013-02-07 15:29:56
2018-01-24 09:03:20
Save $900 a Year with High Efficiency Hybrid Pool Pump